The Bosley FUE
The Bosley Follicular Unit Extraction (FUE) is a minimally invasive hair transplantation technique in which follicular unit grafts (hair follicles) are individually removed from the patient's donor area and then individually transplanted to the recipient (thinning) area.
The grafts are removed using a precision tool and then placed in the recipient area. There is no linear scar and no stitches are required, so your donor area will be minimally noticeable within just a few days.
Why Choose Bosley FUE?
 Bosley FUE procedure, as with all hair restoration procedures at Bosley, is performed by and under the supervision of a Bosley physician. Bosley physicians have dedicated their practice exclusively to hair restoration. Bosley physicians are highly skilled in the time-tested Bosley process of natural graft placement, where a patient's hairline is recreated in keeping with their original hair growth pattern to give them a natural-looking result.
How a Bosley FUE is Performed
Preparing the Donor Area
First, we identify the recipient areas and work to personalize a plan to help you achieve the most natural-looking hairline possible. Next, we trim the hair in your donor area to facilitate the identification and removal of strong, healthy donor hairs.
Removing and Preparing the Hair Follicles
Once the donor area is prepared, we remove individual follicular units from your scalp by making a tiny circular incision around them to isolate the graft. Then we extract the graft from the scalp using a tweezers-like instrument. Working with high-powered stereo microscopes, our trained technicians examine the follicular grafts and prepare them for placement.
Placing the Follicular Units
When the follicular grafts are ready, we make small incisions in your recipient area that match your natural hair growth pattern. The follicular grafts are then strategically placed one by one, according to the number of hairs within each follicle, in order to maximize the naturalness, density and coverage of the thinning areas. This is where the experience and artistry of your Bosley physician is critical.
FUE Healing and Hair Growth
The tiny incisions left behind after the follicular units are extracted will heal completely in a few days. Three months after the procedure, you should begin to notice new hair growth. After six months, you should see noticeable regrowth, at which point your native and transplanted hair will continue to grow naturally.
Benefits of a Bosley FUE
No stitches; donor area appears mostly unchanged within days
Natural-looking and permanent results
State-of-the-art minimally invasive technique
Simple outpatient procedure
Fast recovery; many patients return to work the next day
Why Choose Bosley FUE
Natural Looking
Using the most advanced technology, Bosley matches your facial structure and existing hairline to create a fuller, natural look.
Expertise
With over 430,000 hair transplant procedures performed, Bosley is recognized as the most trusted and experienced expert in hair restoration.
Permanent
Once your healthy follicles are transplanted into the thinning area, your hair will continue to grow naturally.
Artistry
Our experience, attention to detail and advanced technology allows us to achieve the most natural results.
Fast Recovery
Bosley's simple, 1-day procedure allows many patients to return to their normal activities the following day.
Results
Our next-generation hair-by-hair® transplant techniques allow us to deliver amazing, personalized results for each patient.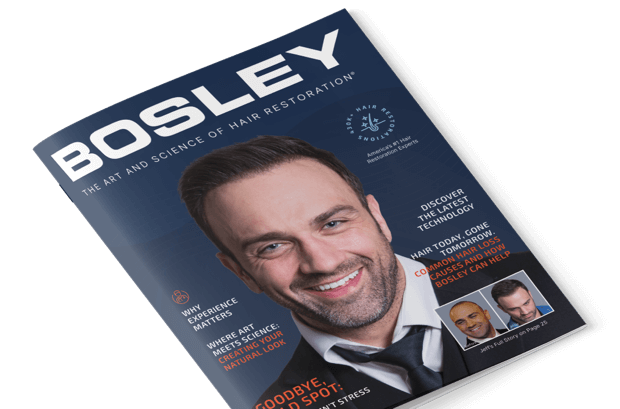 Our Free Information Kit
Bosley's Free Information Kit is designed to help you find the best solution for your hair treatment needs. We're here to help you make an informed decision on the next step of your hair restoration journey.
Your Free Info Kit Includes
Available treatment options
Real patient results
The cost of hair transplantation
Financing and payment options
How to schedule a free consultation
Includes a $250 Gift Card
Get Your Free Info Kit + $250 Off Gift Card† Today