Limited Time Offer:
Hair Transplantation $2200 Off†
See All Offers
Bosley Offers
All of Bosley's current offers
Hair Transplantation $2200 Off†
Expiration Date: Sept 30, 2023
Save up to $2200 on the cost of your FUE or FUT procedure* (For more details, see disclaimer below or speak with a Bosley specialist). Schedule a Free Consultation Now! or call us at 800-785-8611.
Scalp Micropigmentation
20% off SMP†
Expiration Date: Sept 30, 2023
SMP 20% discount applies only to the price for a patient's 1st SMP treatment (consisting of 1-3 sessions). Schedule a Free Consultation Now! or call us at 800-785-8611.
Bosley Revitalizer Flex Cap $200 Off the 272
$100 Off the 164
$50 Off the 96†
Expiration Date: Sept 30, 2023
Buy online now or through your Bosley counselor. Not combinable with other offers/discounts. Not redeemable for cash. Offer valid while supplies last. Rain checks and backorders are not permitted, offers valid on in-stock items only.
BosleyRx® Finasteride
Only $17.50 per month†
BosleyRx® Finasteride hair loss solutions delivered directly to you. Offer based on a 12-month Supply. Visit BosleyRx for more info.
$250 Off Gift Card + Free InfoKit / Guidebook†
Get Bosley's Free Information Kit and learn all about how Bosley can help you get your hair back. Additionally, get a $250 Off gift card that can be used for many of our services. Fill up the form below or Schedule a Free Consultation Here!
How We Determine Cost
We calculate the cost of a hair transplant on a per-graft basis. The exact number of grafts needed is unique to each patient since it will depend on the extent of your hair loss and your hair restoration goals. The average cost of a Bosley hair transplantation is approximately $10,000, but the price can range between $8,000 and $18,000 depending on procedure size.​
The True Value of a Hair Transplant
While other cosmetic hair loss solutions can be appealing due to their low upfront cost; the long-term costs of non-permanent solutions ends up being significantly more than a hair transplant. Our hair transplant procedures provide permanent results, and our doctors are experts in their field so you can feel confident that the outcome will be well worth the cost.
Financing Your Hair Transplant
We understand that the upfront cost of a hair transplant can be overwhelming, which is why we offer multiple financing options that work with practically any budget*.
Get Your Personalized Estimate
Only a certified physician can assess your hair loss classification and growth pattern to determine how many hair grafts are needed to achieve your desired results. If you're ready to permanently restore your hair, schedule a FREE, no-obligation, consultation to get a cost estimate.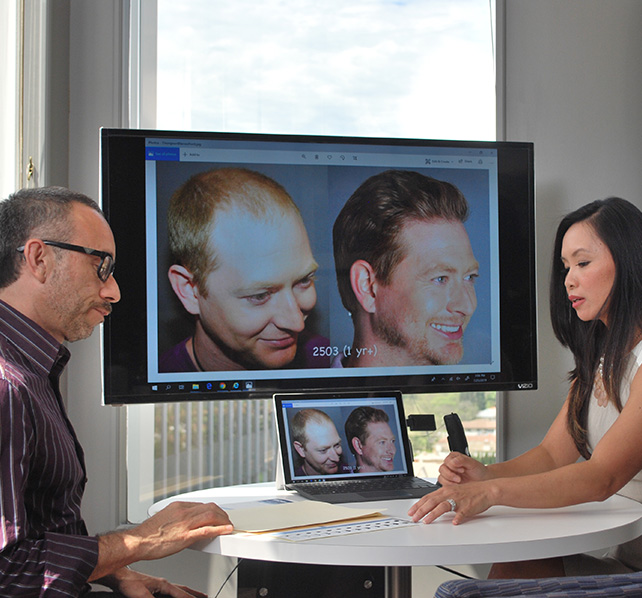 Our FREE Consultation
Our free, private, no-obligation hair loss consultations are designed to help you learn more about your hair loss, answer any questions you might have, and start developing a customized plan to help you achieve your hair restoration goals.
Here's What You Can Expect:
Identify personal goals
Learn about Surgical & Non-Surgical options
Cost estimate
Financing Options
Develop a personalized hair restoration plan
Schedule Your FREE Consultation Today for Your Personalized Cost Estimate + $250 Off Gift Card†