Limited Time Offer:
$2,000 Off Hair Transplantation†
See All Offers
Bosley Offers
All of Bosley's current offers
$2,000 Off Hair Transplantation†
Save $2000 on the cost of your FUT procedure* (For more details, see disclaimer below or speak with a Bosley specialist). Schedule a Free Consultation Now! or call us at 800-785-8611.
20% Off ALL Bosley MD Products †
Category-leading thinning hair solutions for men and women including shampoos, conditioners, supplements and medicated scalp treatments. The 20% discount will be applied on the checkout automatically. Buy Online Now!
$500 off the New Bosley Revitalizer Flex 272 Cap or $400 off New Bosley Revitalizer 164 Flex Cap†
Buy online now or through your Bosley counselor. Not combinable with other offers/discounts. Not redeemable for cash. Offer valid while supplies last. Rain checks and backorders are not permitted, offers valid on in-stock items only.
20% Off the Bosley Micro-Roller†
Stimulates the skin and increases in both blood flow and collagen production while exfoliating and rejuvenating your scalp. Buy Online Now!
$250 Off Gift Card + Free InfoKit / Guidebook†
Get Bosley's Free Information Kit and learn all about how Bosley can help you get your hair back. Additionally, get a $250 Off gift card that can be used for many of our services. Fill up the form below or Schedule a Free Consultation Here!
BosleyRx® – Finasteride 12-month Supply only $17.50 per month†
BosleyRx® Finasteride based hair loss solutions delivered directly to you. Visit BosleyRx for more info.
Free Consultation with a Hair Restoration Specialist†
Meet one-on-one with a Bosley hair restoration specialist and learn firsthand how Bosley can help you get your hair back. Also, it's your chance to get answers to any questions you may have. Schedule Now!
How We Determine Cost
We calculate the cost of a hair transplant on a per-graft basis. The exact number of grafts needed is unique to each patient since it will depend on the extent of your hair loss and your hair restoration goals. The average cost of a Bosley hair transplantation is approximately $10,000, but the price can range between $8,000 and $18,000 depending on procedure size.​
The True Value of a Hair Transplant
While other cosmetic hair loss solutions can be appealing due to their low upfront cost; the long-term costs of non-permanent solutions ends up being significantly more than a hair transplant. Our hair transplant procedures provide permanent results, and our doctors are experts in their field so you can feel confident that the outcome will be well worth the cost.
Financing Your Hair Transplant
We understand that the upfront cost of a hair transplant can be overwhelming, which is why we offer multiple financing options that work with practically any budget*.
Get Your Personalized Estimate
Only a certified physician can assess your hair loss classification and growth pattern to determine how many hair grafts are needed to achieve your desired results. If you're ready to permanently restore your hair, schedule a FREE, no-obligation, consultation to get a cost estimate.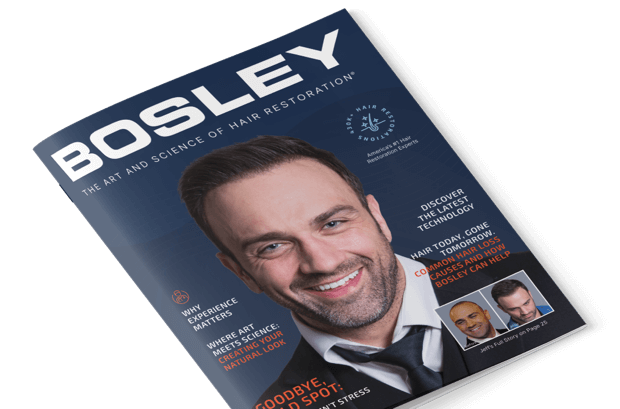 Our Free Information Kit
Bosley's Free Information Kit is designed to help you find the best solution for your hair treatment needs. We're here to help you make an informed decision on the next step of your hair restoration journey.
Your Free Info Kit Includes
Available treatment options
Real patient results
The cost of hair transplantation
Financing and payment options
How to schedule a free consultation
Includes a $250 Gift Card
Get Your Free Info Kit Today + $250 Off Gift Card Today†