Per-Graft: How We Determine Cost
Bosley calculates the final price of each hair transplant procedure on a per-graft basis, so the costs are unique to each patient. The exact number of grafts you'll need depends on the extent of your hair loss and your hair restoration goals, but most patients receive between 800 and 3,000 grafts. Typically, the price of a procedure ranges from $6,000 to $12,000.
Again, the best way to get an accurate cost estimate is to come in for a free consultation.
The True Value of Bosley Hair Restoration
While the low upfront cost of temporary cosmetic solutions can seem like a good deal, the cost of maintaining cosmetic solutions ends up being significantly more than a Bosley procedure. Our transplanted hair restorations are permanent. Bosley hair transplantations are performed by the foremost experts in the field, so you can feel confident in their ability to deliver a lasting solution well worth the cost.
Financing Your Hair Transplant
Even if you want a hair transplant, we understand that the upfront cost can be more than some can afford out of pocket, which is why we offer multiple third party financing options that work with practically any budget.* Get your procedure now and pay it off in monthly installments. During your free consultation, a Bosley counselor can help you find the payment plan and terms that suit your budget.
Get Your Estimate
Only a Bosley-affiliated physician can assess your hair loss classification and growth pattern in order to determine how many hair grafts are needed to achieve your desired results.
If you're ready to permanently restore your hair, schedule a free, no obligation consultation to get a cost estimate and find out if a Bosley hair transplantation is right for you.
*Subject to credit approval. Minimum monthly payments required. See provider for details. All figures are estimates. Actual monthly payments will vary from lender to lender based upon the amount financed, the terms for which you apply, and your credit standing. Rates for various lenders' programs range from 3.99% to 28.99%. Additional terms and conditions may apply depending on the lender selected. All information subject to change without notice.
Financing is provided by independent finance lenders, and the lenders independently approve the financing and its terms and conditions. Bosley does not receive any compensation upon the submission or lender's independent approval of an application. Submission of an application does not obligate you to use the lender to finance a procedure and no amounts are charged until you agree to undergo a procedure. A Bosley physician must confirm that you are a candidate for surgical hair restoration.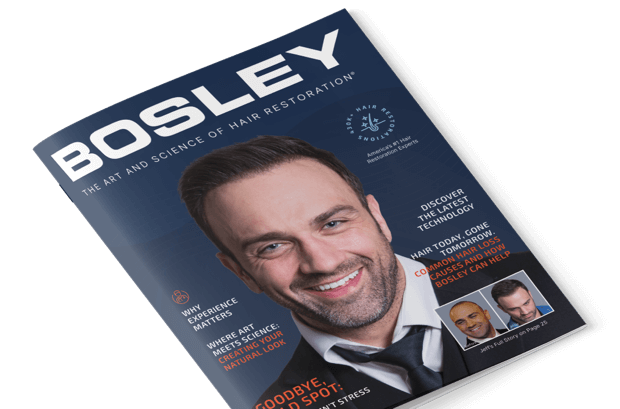 Our Free Information Kit
Bosley's Free Information Kit is designed to help you find the best solution for your hair treatment needs. We're here to help you make an informed decision on the next step of your hair restoration journey.
Your Free Info Kit Includes
Available treatment options
Real patient results
The cost of hair transplantation
Financing and payment options
How to schedule a free consultation
Includes a $250 Gift Card
Get Your Free Info Kit + $250 Off Gift Card† Today