Why Choose Bosley
Permanence
Hair transplantation is widely considered to be the most effective option for restoring hair for this reason. During a hair transplantation, a Bosley physician moves healthy hair follicles from one location and relocates them to the area of the head that is thin or bald due to the hormone DHT. Each hair follicle extracted from the donor area is carefully transplanted into the scalp in the recipient area to match the patient's previous hair growth pattern, where the new hair will continue to grow as usual.
Natural Looking Results
Hair transplantation procedures are performed by Bosley physicians using next generation hair-by-hair® restoration techniques. The newly transplanted hair is artistically placed to complement the natural growth of the patient's hairline and facial features, giving the patient the most natural looking results. This approach creates a seamless transition as soft and silky as the original hairline, with results that look completely natural and undetectable.
Simplicity
At Bosley, surgical hair transplant surgery is a simple, outpatient procedure. Patients arrive at Bosley and go home the same day. Patients typically experience very minimal downtime, many returning to work the next day.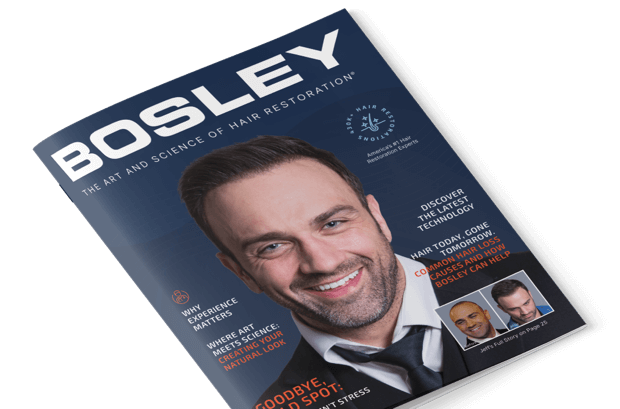 Our Free Information Kit
Bosley's Free Information Kit is designed to help you find the best solution for your hair treatment needs. We're here to help you make an informed decision on the next step of your hair restoration journey.
Your Free Info Kit Includes
Available treatment options
Real patient results
The cost of hair transplantation
Financing and payment options
How to schedule a free consultation
Includes a $250 Gift Card
Get Your Free Info Kit + $250 Off Gift Card† Today