Benefits of Low-Level Laser Therapy for Hair Loss
Laser therapy for hair loss offers a variety of benefits for people experiencing mild to moderate hair loss. Thanks to innovative technology, it's a painless, non-invasive, at-home treatment that requires no preparation or recovery time.
Laser hair therapy is safe, effective and has minimal (if any) side effects. It is a cost-effective treatment that stimulates hair growth using advanced low-level laser technology. LLLT for hair loss can also strengthen hair, helping to prevent further loss.
Sit Back and Let the Revitalizer Do the Work
The Bosley Revitalizer automates the LLLT process. An indicator light on the controller pod lets you know when your therapy is still in progress, so all you have to do is put on our laser cap and let the Revitalizer go to work.
Is the Bosley Revitalizer Right for You?
The Bosley Revitalizer is intended to treat androgenetic alopecia—a common cause of hair loss in men and women. LLLT can promote hair growth in men and women with Fitzpatrick Skin Phototypes I to IV. Men with Norwood-Hamilton classifications of IIa to V patterns and women with Ludwig-Savin classification of I-1 to I-4, II-1 to II-2, or frontal can also use the Bosley Revitalizer.
If you are unsure about the classification of your hair loss, consider speaking with a Bosley Specialist to find out if the Bosley Revitalizer is right for your hair needs.
Low-Level Laser Therapy for Hair Loss: An Effective Solution
Low-level laser therapy hair treatment is a safe and effective option that can help your hair appear fuller and thicker. It can work as a standalone treatment, or we can combine it with other hair regrowth procedures and/or treatments.
LLLT hair loss treatments have been cleared by the FDA, and studies have shown its clinical effectiveness around 80%. The NIH has also reported that laser treatment for hair loss is a safe procedure for both men and women. In a recent study performed with males between 18 and 48 years of age, low-laser therapy showed a 39% increase in hair growth during a period of 16 weeks.
This laser therapy treatment has such a high level of success because it stimulates the hair follicles, promoting hair growth and slowing the rate of hair loss. Laser light therapy increases blood flow to the area, bringing more oxygen and nutrients to encourage growth. It does this by triggering the widening of the blood vessels, causing your hair follicles to progress into the anagen phase. 
Low-Level Laser Therapy Hair Loss: Before and After
1 / 4
Product: Bosley Revitalizer®, BosleyMD​®​
Product

Bosley Revitalizer®, BosleyMD​®​
2 / 4
Product: Bosley Revitalizer®, BosleyMD​®​
Product

Bosley Revitalizer®, BosleyMD​®​
3 / 4
Product: Bosley Revitalizer®, BosleyMD​®​
Product

Bosley Revitalizer®, BosleyMD​®​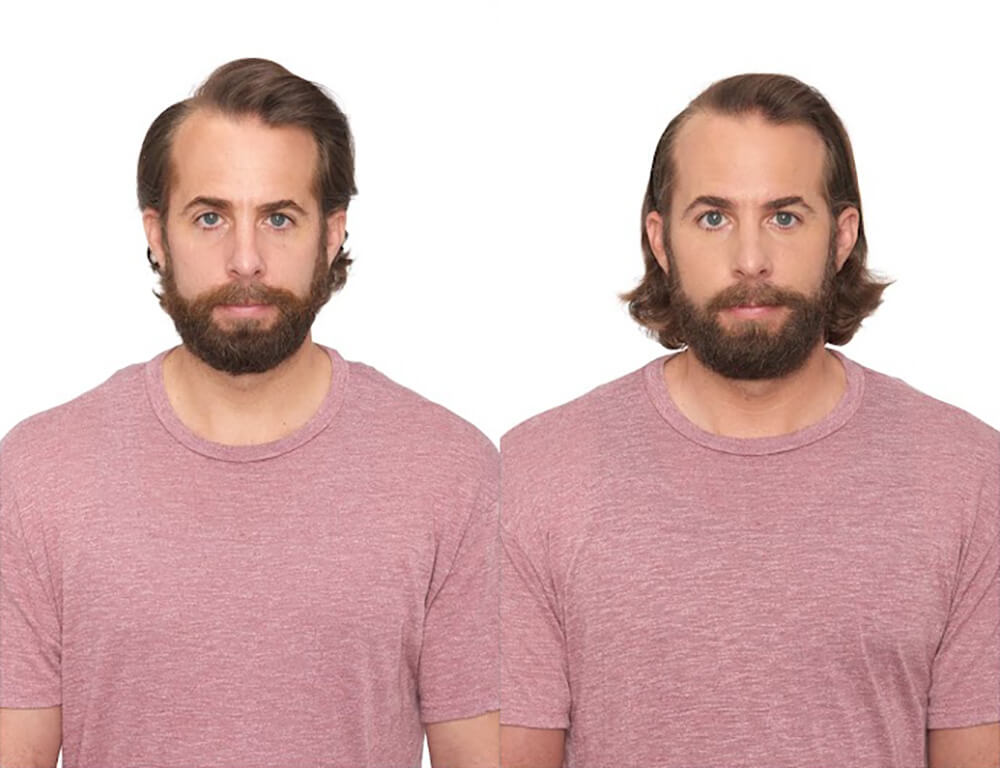 4 / 4
Product: Bosley Revitalizer®, BosleyMD​®​
Product

Bosley Revitalizer®, BosleyMD​®​
Why Bosley?
Bosley is one of the most trusted names in the hair restoration industry, with over 470,000 successful procedures performed. Our in-depth expertise and years of experience help us advise our clients about the right treatment options for the type of hair loss they face. 
We strive to offer the highest degree of hair restoration success with minimal downtime, ensuring our clients enjoy fuller, natural-looking hairlines. At Bosley, we use only the latest technology and newest techniques. Our work has provided more follicle award winners and International Society of Hair Restoration Surgery presidents than any other practice in the world, making us a trusted leader in the hair restoration field.
We also understand that the upfront cost of hair loss treatments can feel daunting. That's why we offer various financing options so that you can achieve a full, healthy head of hair you love. 
If you're experiencing hair loss and looking for non-invasive restoration methods, Bosley can help. Schedule a consultation today to learn more about our low-level laser therapy hair loss treatment options. 
FAQs
How Does Laser Hair Loss Treatment Work?
At Bosley, we offer laser treatments for hair loss that encourage hair growth in a non-invasive manner. The Bosley Revitalizer uses red light therapy to stimulate the scalp, increasing blood flow to the area. The increase in circulation provides more oxygen and nutrients, encouraging the hair follicles to enter the growth stage. 
Red light therapy, also called photobiomodulation, can reduce inflammation and help with hair growth by applying specific wavelengths to encourage cellular energy production. This process helps with the elimination of waste products from your hair, and it can also slow or prevent cellular death in weakened cells. The result is that the cells in your hair become stronger and continue to grow. 
Are There Any Risks or Side Effects Associated withLaser Therapy for Hair Loss?
Because laser therapy is non-invasive, there are minimal (if any) effects after treatment. In some rare cases, people have experienced mild side effects like headaches, redness, or itching. It is important to let us know about any effects you experience so that a Bosley Specialist can determine whether there's a better option available for your needs. 
How Long Does It Take To Perform Laser Hair Therapy?
Everyone knows good things take time, and hair growth is one of them. Laser hair therapy is not a treatment option that works immediately after one session — you will need several sessions to get the results you want. Exactly how many treatments you will need depends on the treatment area, the degree of your hair loss, and other individual factors. 
Each treatment session is short, with most lasting approximately eight minutes. There's zero preparation required, but it's always best to inform our team about any medications you take or medicalconditions. This is especially important if you take medicine that makes you photosensitive. 
When you come in for your free consultation, we will work with you to put together a personalized plan that will provide the results you need. If you perform red light therapy sessions every day for eight minutes, you can expect to start seeing results in approximately one to two months. 
Are There Alternatives to Laser Treatment for Hair Loss?
At Bosley, we offer many types of treatment options to help you with your hair restoration goals. We have surgical options like follicular unit extractions (FUE) and follicular unit transplants (FUT). 
An FUE is a procedure that involves removing follicular unit grafts from a donor area and transplanting them to the recipient area. 
An FUT involves the removal of grafts in groups from the donor site and transplantation to the treatment area. 
Another surgical procedure we offer is a BioGraft. This treatment combines an FUE with a non-surgical solution to combat hair loss. 
We also offer fully non-surgical options in addition to low-level laser therapy. Scalp micropigmentation adds pigment to the scalp to improve the appearance of the hairline, adding more definition and making your hair appear fuller and thicker. 
We also offer topical hair restoration products that help with hair loss, including shampoos, conditioners, and scalp care products. 
Some of our most successful options are those that contain finasteride. BosleyRx finasteride is an FDA-approved prescription medication for the prevention of hair loss. It works by preventing testosterone from turning into DHT, which is a hormone that causes hair loss in men. 
Am I a Good Candidate for Laser Therapy for Hair Loss?
This type of treatment can be a good option for those who suffer from mild to moderate male or female pattern hair loss. Low-level laser therapy is ideal for:
Women experiencing androgenetic alopecia who have Ludwig-Savin Classifications of I-1 to I-4, II-1 to II-2, or frontal loss 
Men with Norwood-Hamilton classifications of IIa to V patterns 
Both men and women with Fitzpatrick Classification of Skin Phototypes I to IV 
If you're not sure where you fall on these classification scales, schedule a free consultation with a Bosley Specialist to determine whether LLLT is right for you.
Note: Low-level laser therapy does not offer immediate results, so the right candidate will be someone who has time to participate in many sessions. Pregnant women or people who take photosensitizing medications should not receive this treatment.
Is Low-Level Laser Therapy Safe?
FDA has cleared the use of LLLT devices for the treatment of hair loss. It does not cause uncomfortable side effects nor does it require any recovery, making it an excellent option for those who do not want to undergo a surgical procedure. The energy that the therapy uses does not contain any thermal components that affect molecular structures, making it a safe and effective treatment option. 
Does Laser Therapy Cause Hair Shedding?
It is possible (but rare) to see some mild hair shedding. Only a small handful of users experience an excess of shedding in the first few weeks of beginning treatment, which is considered normal and nothing to be alarmed about. Shedding is the result of hair follicles getting rid of damaged hair and growing new, healthier ones. As we like to say at Bosley: out with the old, in with the new!
Can I Combine Hair Loss Treatments?
Yes, you can combine low-level laser therapy with other hair loss treatments. In fact, many people see better results when they use a combination of hair restoration methods. We recommend pairing low-level laser therapy with medications that contain finasteride. Alternatively, you can always opt for permanent procedures like FUE or FUT hair transplants.