What Is an Eyebrow Transplant? 
Eyebrow transplants are permanent cosmetic procedures that can make your eyebrows appear fuller and thicker or replace lost hair. To perform this procedure, your surgeon will perform a "small" hair transplant procedure. 
An eyebrow hair transplant involves taking a small piece of your scalp (called a graft) that contains the appropriate number of hair follicles for the procedure to achieve your desired results. The surgeon will then transfer the individual hairs from the graft into your eyebrows, where they will continue to grow naturally.
Benefits of an Eyebrow Transplant
An eyebrow transplant surgery is a minor surgical procedure that can offer major benefits. Women often choose this procedure so that they do not have to spend time and money on eyebrow makeup or routine beauty services. Other benefits include:
Restores over-plucked eyebrows
Fills in hair over scarred areas
Helps patients achieve the look they want
Helps those with little or no eyebrow hair achieve thicker brows
Provides a lifted appearance to the eyes
This procedure is particularly helpful for those who have experienced trauma to the eyebrow area, leaving scars on which hair no longer grows naturally. Eyebrow implants can help cover up those scars and fill in the hairless areas for fuller, healthier brows. An eyebrow transplantation is also a good option for those who have suffered from trichotillomania (compulsive hair pulling or plucking) that has led to permanent hair loss. 
A Permanent Solution
Whether it's the result of years of plucking and waxing or other factors, thinning eyebrows can make you feel self-conscious when you look in the mirror. While pencils, makeup, or tattoos can help you fill in your eyebrows, these short-term solutions are expensive, time-consuming, and often don't appear natural. Worst of all, each can cause additional permanent damage to your hair follicles.
Bosley's talented hair restoration experts will work with you to create a custom brow that complements your face's shape and features. This simple treatment involves taking brow-like hair follicles from your head and transplanting them into the thin, patchy areas of your eyebrows. In as little as two hours, you'll be on your way to beautiful, natural brows.
Our Experience Sets Us Apart
When it comes to eyebrow restoration, experience matters. Bosley physicians combine years of practical experience with an artist's eye for beauty to achieve incredible results for our patients.
Eyebrow hair is different from any other type of hair on your body. Not only does your facial type and ethnicity affect the thickness and arch of your brow, the actual shape of your brow can change significantly as you get older. All of these factors demand a deft hand.
However, our experience doesn't just come from understanding hair. We recognize that eyebrows can highlight the natural shape and aesthetics of your face. Using the latest beauty trends and the most advanced hair restoration techniques, our experienced physicians can help bring out the most beautiful version of you.
Who Is a Good Candidate for an Eyebrow Transplant?
The best candidates for eyebrow transplants are people who have lost some of the fullness in their eyebrows. It's also an effective procedure for those who have been in accidents or suffered trauma that left scars or otherwise affected the look of their eyebrows. Patients who have lost hair in the eyebrow area as a result of laser hair removal can also benefit from an eyebrow transplant.
Overplucking is a common reason for hair loss in the long term. This habit can cause permanent damage to hair follicles, preventing the natural growth of hair and leaving you with patchy or thin eyebrows. An eyebrow restoration procedure can correct this concern by stimulating hair growth for beautiful, natural-looking brows.
People with naturally thin eyebrows can also benefit from this procedure, as it allows them to achieve the fuller and thicker look they prefer. To be a good candidate for this surgery, you must have enough hair in the donor area to provide the necessary grafts. The hair in the donor area also has to match the appearance of eyebrow hair. As a result, grafts are often taken from behind the ear.
It's important to note that not everyone is a good candidate for eyebrow implants. If you have alopecia totalis or alopecia universalis, this procedure may not be a good option. Typically, those with these conditions do not have the hair follicles necessary for the procedure. People with scarring alopecia are also not good candidates.
To find out whether you're a good candidate for an eyebrow transplant, schedule a free consultation with Bosley today.
Which Eyebrow Restoration Is Right for You?
While we offer eyebrow restoration solutions for any level of hair loss, most procedures fall into one of the following three categories:
Eyebrow Implants: Before and After Photos
Full Restoration
If you were born without full brows, or if you have thin or patchy brows due to genetics or other reasons, our full restoration uses 200+ grafts to give you a beautifully shaped brow line.
Enhancement
If years of plucking and tweezing have left you with a patchy or pencil-thin brow, our enhancement option transplants 101-199 grafts that can significantly enhance your looks by filling in gaps.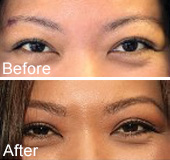 Touch-Up
If you're just looking for a little more fullness or a subtle reshaping, our 50-100 graft touch-up option is a much more natural alternative to penciling or tattooing.
What Does an Eyebrow Hair Transplant Cost?
A Bosley eyebrow transplant costs $5,000. We encourage anyone interested in eyebrow restoration to schedule a FREE, no-obligation, in-person, or video consultation with an experienced Bosley hair restoration expert to learn more about the procedure.
Eyebrow Hair Transplant: Before and After Photos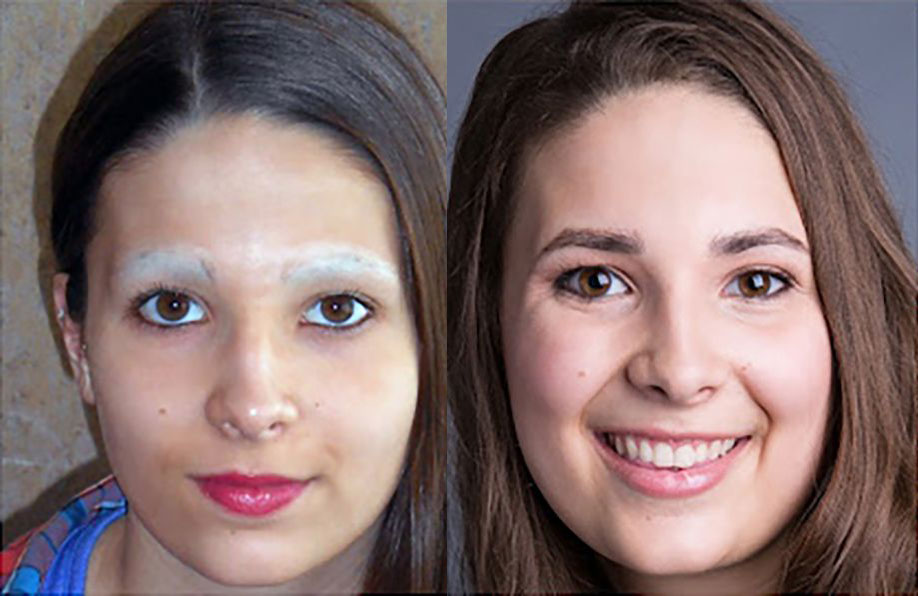 1 / 2
Procedure: Eyebrow Restoration
Procedure

Eyebrow Restoration
2 / 2
Procedure: Eyebrow Restoration
Procedure

Eyebrow Restoration
Why Bosley?
Bosley offers hair transplant services from some of the most experienced hair restoration surgeons in the industry. We have performed more than 430,000 hair transplantation procedures, including eyebrow transplants. We use only the latest techniques and advanced technology for effective and affordable procedures. 
We're dedicated to ensuring the most natural-looking results possible, minimizing the appearance of scars, and giving your eyebrows the right shape and fullness to enhance your features. Our team knows that eyebrows can have a huge impact on not just how you look, but how you feel. That's we offer comprehensive hair restoration solutions to help you regain your confidence and reach your hair growth goals. 
We also offer a variety of payment options, including hair transplant financing, so that you can achieve your dream brows on your budget. Schedule your free consultation with Bosley today!
FAQs
How Do I Prepare for an Eyebrow Transplant?
One of the most important steps is meeting with us for a consultation. During this consultation, we will ask about your medical history, and you can let us know about your goals. 
We'll discuss any current medications, especially if you are on blood thinners. You may need to stop taking blood thinners two weeks before the procedure (with the approval of your primary care physician). You may also need to stop taking supplements like vitamin E and fish oil. 
You'll also need to take some extra care with your skincare routine in the time leading up to the procedure. Avoid exfoliating facial products because they can irritate the skin. We always recommend wearing sunscreen and avoiding direct sun exposure for a few days before the surgery to keep your skin healthy. This also means drinking lots of water and applying moisturizer to prepare the treatment areas. 
Lastly, you will receive local anesthesia during the procedure, so it's important that you have someone to drive you home. 
How Long Does the Procedure Take?
The length of the procedure will depend on the size of the treatment area and your goals. If you require a large number of transplanted grafts, the procedure can take up to three to five hours. If you need less, then two or three hours is usually enough. After the procedure, you are free to go home.
Is There a Recovery Period?
The downtime after an eyebrow transplant is minimal, but it can take up to a week or more for the donor and recipient sites to heal completely. After this quick out-patient surgery, you can go straight home. We will provide personalized aftercare instructions so that you can recover quickly and safely. 
If you experience any discomfort after the procedure, you can safely take over-the-counter painkillers. Make sure to let us know about other medications prior to the procedure — such as blood thinners and supplements — and speak to your primary care physician about whether you should stop taking them.
It's important to take it easy after the procedure. Make sure to keep your head elevated for a few nights to reduce any risk of swelling, and keep any bandages on for the advised time period. During this time, it's recommended that you refrain from smoking or drinking alcohol. 
It is important to avoid strenuous activities for at least a week so that you do not risk disturbing any of the grafts. When washing your face, take extra care and use only mild soap. It is perfectly normal to see the newly transplanted hair falling out after the procedure, as this leads to new hair growth at the transplant site. It can take a few months to see the full results, so patience is key. 
Are There Any Risks or Side Effects Associated with Eyebrow Hair Transplantation?
It is rare to experience any type of complication after an eyebrow transplant, however, as with any surgery, there can be risks associated with a transplant, including bruising and swelling. It is important to inform your Bosley Physician about any medical conditions you may have, especially if you have a blood disorder or autoimmune problems.
Does Bosley Offer Eyebrow Dye Services As Well?
Although Bosley does not offer eyebrow dyes, our services make it easier for you to dye your own eyebrows or pay a professional to do so. By turning to us, you can build a healthy foundation for your eyebrows that allows you to style them as you please. 
If you are not sure about what dyes to choose to ensure that your transplants remain healthy, our team can help you determine which ingredients and colors are right for you.