Reynaldo Lee-Llacer
M.D.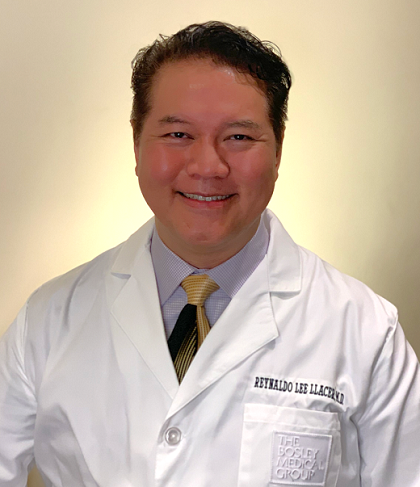 Dr. Reynaldo Lee-Llacer II has been practicing medicine for more than 18 years and loves helping patients improve their lives.
Dr. Lee-Llacer is a specialist in Aesthetic Medicine and Hair Transplant Surgery. He graduated from the University of Maryland Baltimore County with a Bachelor of Arts in Psychology. He earned his doctorate in medicine at De La Salle University in the Philippines.
After completing his Internal Medicine training at University of Washington Spokane Internal Medicine, Dr. Lee-Llacer returned to Maryland with his family. He worked in primary care and as a Hospitalist. In 2006, he and his wife opened an Aesthetic Medicine practice to help provide patients with natural looking rejuvenated results based on their unique facial characteristics.
"Given my background in Aesthetic Medicine I was always searching for a way to make an even bigger impact on patient lives," said Dr. Lee-Llacer. "After discovering the life changing results Hair Transplantation procedures provide to hair loss patients, I knew Bosley, The World's Most Experienced Hair Restoration Practice® was the perfect practice to apply my artistic vision and aesthetic experience."